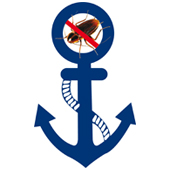 P.O.Box 4412, Fujairah, United Arab Emirates
Key Personnel : Mr.Sahad - Managing Director
Company Profile
Anchor Pest Control & Trading L.L.C was Established in 1998 @ Fujairah & Dubai by 16 years later it stands tall among the 100 plus Government approved Pest Control Companies in Fujairah & Dubai today.

He is one of the key personal introduced safe pest control service & Fumigation practices in UAE. His vision of bringing a quality Products to UAE paid rich dividends. Today Anchor Pest Control No. 1 spot in General Pest control services & Fumigation Business in UAE. Being the sole importer and principle application specialist of Maritimes Fumigation services. Fumigate Millions of tons of Food grains, Tobacco, and various other agricultural produce in Ships onshore as well as offshore, in Seaports and various Warehouses all over UAE during storage every year.

Anchor pest control & Trading L.L.C in Fujairah & Dubai is the only Pest Control Company in UAE with a facility to certify Wood packaging materials used in export in compliance with ISPM - 15 Standards. Anchor pest control also the market leader in Termite Control. Worked with most of the big construction companies in UAE they here completed Billions of sq. metes area of termite control work with guarantee.
Classification(s) :
Location
Advertisement