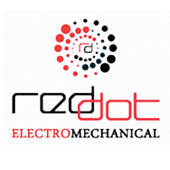 P.O.Box 133637, Abu Dhabi, United Arab Emirates
Key Personnel : Mr. Natarajan - Managing Director
Company Profile
REDDOT in Abu Dhabi is already started its processes in line with the International Standards ISO9001:2007 for Quality Management System, ISO 14001:2004 for Environmental Management System and OHSAS18001:2008 for Occupational Health & Safety Management System.

Presently the company is striving hard to get its services certified to an internationally recognized certifying body in the near future. REDDOT is being managed by Quality oriented professionals and always delivers Quality Services for the first time and every time.

We offer complete HVAC Systems, Firefighting, Fire Alarm , Plumbing system, Electrical system works concept & design to supply and installation, testing, commissioning &maintenance for a wide range of projects from Warehouses, Labor camp and multistoried buildings to schools and industrial compounds which have acclaimed appreciations throughout the region.

Our team of dedicated & qualified personnel is well equipped to handle all types of firefighting works for multistoried high rise office buildings, residential towers, municipality projects, schools, clusters of luxury villas, labor accommodation buildings, public amenities, courts, hospitals and compound of factories which includes different varieties of simple & complex fire & water pump rooms, water heating, cooling & filtration systems, piping installations and fire suppression systems.
Classification(s) :
Advertisement