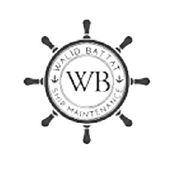 P.O.Box 91430, Musaffah, Abu Dhabi, United Arab Emirates
Location :
Musaffah, Abu Dhabi
Key Personnel : Walid Battat - CEO
Company Profile
WALID BATTAT SHIP MAINTENANCE L.L.C, Abu Dhabi is one of the subcontractor supply in UAE providing services and support for the clients, we have been operated in Mussaffah since 2013 and we have proven expertise in this field of operation.
With due respect we would like to propose you that we will provide service men in term of Highly skilled worker in ship Maintenance, Blaster, Painter, Scaffolder, dependable welder, fabricator, helpers and various other categories, we assure you will provide quality manpower with experience, efficiency, education, health honesty and hard working ability as and when required, we strongly believe that our client get maximum satisfaction at minimum cost and efforts. Our client can rely on us. we have never failed them in the past and we will make it equally easy for them in future.
We are dedicated to meet out clients requirement and in overall out clients have enjoyed a very good relation with us since we understand their need is our commitment, I look forward to have an opportunity to serve your esteemed firm, so as to create and keep a good business relation with you.
Classification(s) :
Keyword(s) :
Advertisement